JusticeWorks takes its responsibility seriously to be an accountable and high-quality provider of services to youth and their families.
We have consistently made the effort to evaluate the outcomes of our work to guide the evolution of our programs and to assure quality services. While we are proud of the outstanding results we've achieved, we never stop trying to improve our programs.
JusticeWorks full outcome reports are available as a more comprehensive look at the services we provide. Contact us today!
Evaluating and Maintaining Our Services to Ensure Better Outcomes.
Quality Assurance
At JusticeWorks, we actively engaging in quality assurance endeavors to ensure adherence to policies, practices, and procedures in the delivery of services – JusticeWorks uses a variety of methods and strategies to determine what the current performance levels are and provides feedback on areas where staff are excelling or where improvement may be needed.
A quality assurance & outcomes agenda items are reviewed at scheduled regional meetings. Data collected for review is displayed using a Balanced Scorecard dashboard. Program directors and supervisors review these metrics which serve as a catalyst for quality improvement activities.
Outcome Evaluation
JusticeWorks YouthCare embraces an outcome evaluation culture and demonstrates a commitment to the accountability of services through the collection of outcome data. Results of the evaluation process along with other quality measures assure that program leadership has relevant and important information about the services being provided and helps to guide program improvement.
All programs at JusticeWorks participate in the formalized outcome evaluation process. All programs have a logic model that identifies key areas in which outcomes are to be measured. Outcome evaluation data is collected on any individual who enters any service at JusticeWorks during the fiscal year. For each child, youth, and family who receives services, data is collected using outcomes forms and standardized instruments and the department provides yearly outcome reports for all branches.
Evaluation of Signature Services
As an organization, JWYC developed signature services which include STOPP®, JC®, VIP®, and Compass Academy to serve youth and families in a variety of ways. These signature services have a multitude of outcome data behind each one including placements, stability in living situations, goal attainment, and other relevant key events. This data is gathered using two standardized measurement tools completed by the youth and families as well as other outcome-related forms. We are currently working to prove the programs' effectiveness by taking steps to move each one towards being evidence-based.
Satisfaction with Services
At JusticeWorks, stakeholder satisfaction surveys are administered to youth and families as well as referral sources following the end of services. As an organization, we were able to validate the survey with the working alliance inventory and the client satisfaction survey to ensure that it measures overall satisfaction with services and engagement with the service provider. Satisfaction results are included in an organization-wide dashboard for each individual county on a quarterly basis and at the end of the fiscal year and are also included on the all counties outcome report each fiscal year.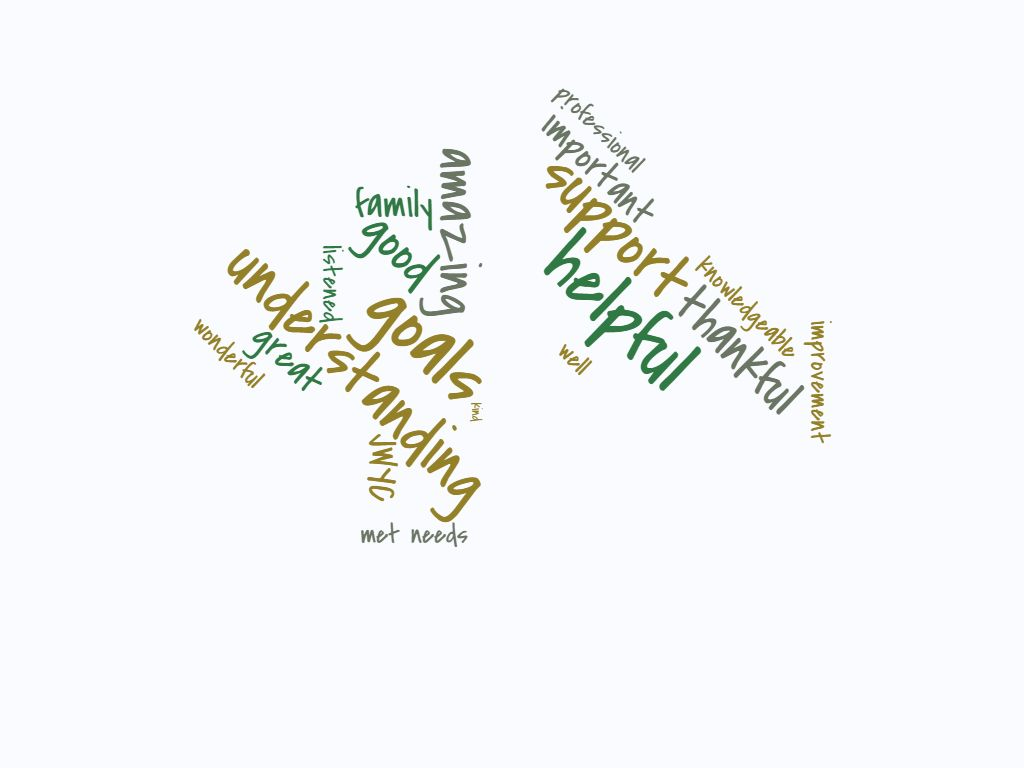 Implementing Evidence-based Practices
JusticeWorks also implements several research-informed programs such as Family Group Decision Making, WhyTry, Nurturing Parenting, Visit Coaching, and several others. To assure fidelity to these models of intervention, Practice Leads are utilized as internal "experts". They support the consistent delivery of practices across the organization and engage in activities that strengthen the delivery of services. They conduct quality assurance fidelity reviews of newly trained staff to ensure fidelity to the specified model and evaluate the efficacy of the service. Assistance is also provided to staff and supervisors to assist branches to problem-solve practice-specific needs and provide consultation.
Let's Discuss how we can help
Interested in learning more about how Justice Works can help? Contact us today to inquire about the evaluation services available to your agency. We're here to help you show how your programs make a difference.